The Main Range & Shotgun Range are both open regular business hours
7:00 AM till 5:00 PM
7 days a week



All target cards, push cart rental, shotgun rentals, ammo & memberships can be taken care of at the Shotgun Office now!
Clay Target Prices:
Members
$0.30
$7.50 (25)
Non-Members
$0.40
$10.00 (25)
Juniors
$0.20
$5.00, expire (25)
Target Card (reloadable)


Members $10
Non-Members $15
Juniors $5

Please read our Targets Lost Policy by clicking here.
The RSSC Shotgun Range consists of a Combo Field, 2 Introductory Stations, patterning board bay, and a 13 station Sporting Clays Course. The Combo Field has Trap, Wobble Trap and 5-Stand games. The Introductory Stations have relatively easy targets, perfect for New or Inexperienced shooters, or a quick warm-up before shooting other games. The Sporting Clays course consists of 13 Stations with 4 throwers at each station; providing a variety of target presentations and varying levels of difficulty.
We are proud to offer all services such as purchasing and loading the Promatic Proximity Cards with targets, as well as purchasing ammo or merchandise and renewing or purchasing your membership, renting carts or shotguns in the Shotgun Office!
The Sporting Clays Course is walkable and also motorized cart accessible. Pushcarts are available for rent at Shotgun Office. The Shotgun Range opens at 7 am daily unless noted on the RSSC Calendar. Hours of operation for the different venues are found in the Clay Target Spin.
Combo Field Schedule:
Mondays

Doubles Trap 7a – 12p
Singles Trap 12p – 4p
Tuesdays

8am-12pm Wobble Trap – Combo Field
12pm-4pm Singles Trap – Combo Field
Wednesdays

Singles Trap 7a – 4p
Thursdays

Single Trap 7a – 4:30p *First Thursday of the month is Registered ATA Singles and the third Thursday of the month is Registered ATA Doubles 50-50-50 *** Every Fourth Thursday of the month
Fridays

Singles Trap 7a – 4p
Saturdays

5 Stand 7a – 12p
Singles Trap 12p – 4p
Sundays

5 Stand 7a – 12p
Singles Trap 12p – 4p
Ladies Day at the Shotgun Range
Family Day At the Shotgun Range
Dove Flurry – August 26th & 27th
Shotgun Open House – September 4th 2023
Hedgehog Open – October 7 2023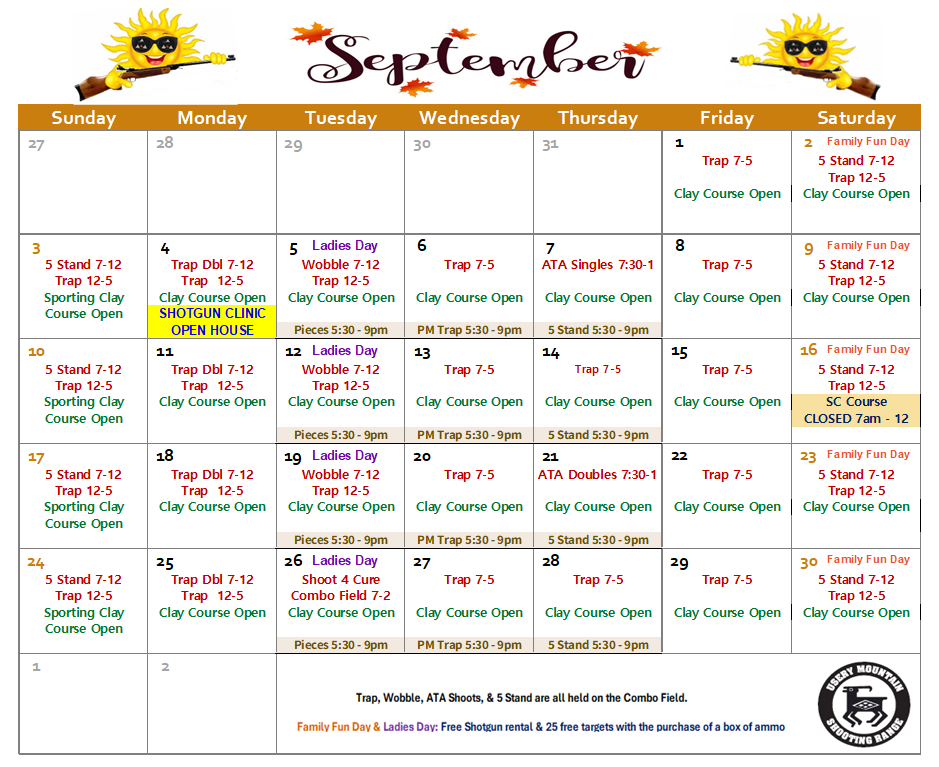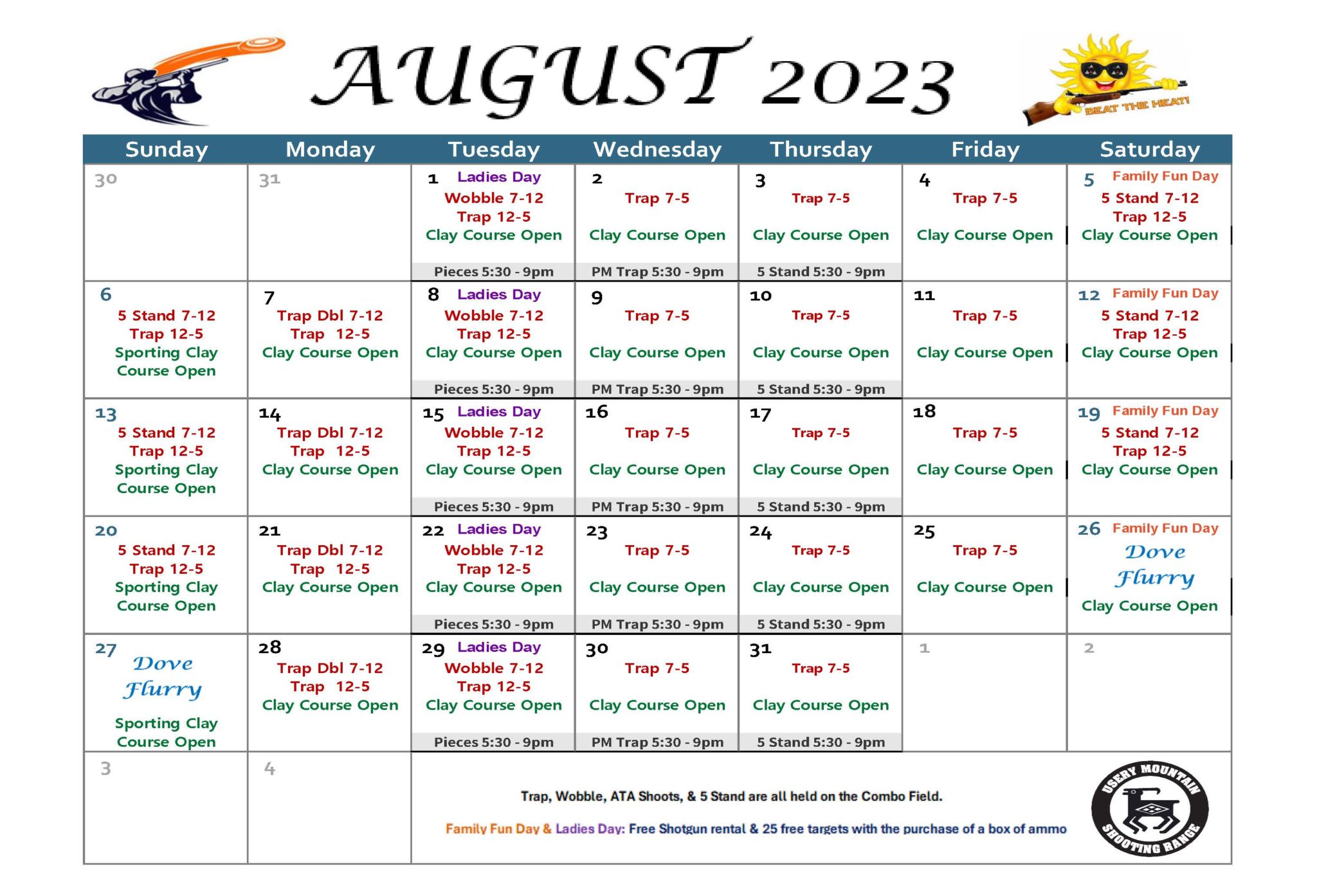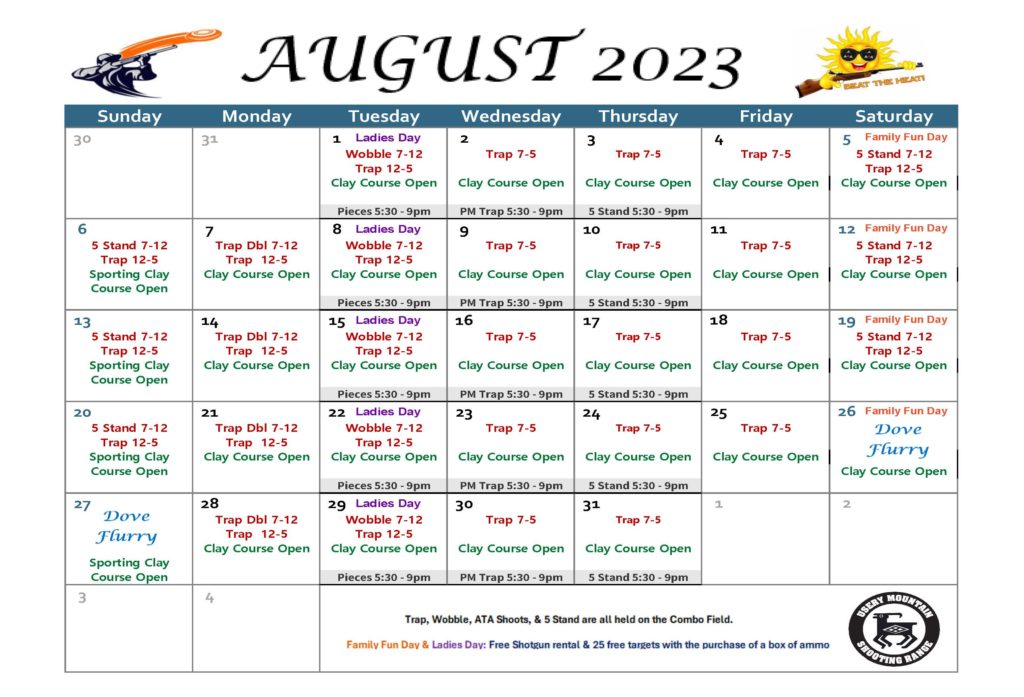 50-50-50 Schedule
Fourth Thursday of every month (Starting in October)
ATA Registered Trap Marathon 2023
Check out the schedule.
SCTP junior clays program, (click here to go to the Rio Salado Target Terminators' website for details)
In order to use or leave your off-road vehicle/golf cart on premises, you will need to fill out a ATV/Golf Cart Daily Use Form or a ATV/Golf Cart Storage Form.
The Sporting Clays Course will be closed 1 day prior to a Registered Sporting Clays event for set up as well as the day of the Event Shoot.
Sporting Clays will be Open only to competitors on the day of the shoot.
Combo field and introduction/practice stations as well as the patterning board bay will be open and available to the public.
Arizona Sporting Clays Association
Youth Shotgun Programs:
Target Terminators SCTP Team Sponsored by AZ G&F
Jeff Schultz, Head Coach 480-710-6036
Target Terminators
Dust Devils SCTP Team Sponsored by Arizona Outdoor Sports and AZ G&F
Tom Slaughter, Head Coach 480-331-6616